La Perla Amazon River Cruise
New affordable cruises on the Amazon!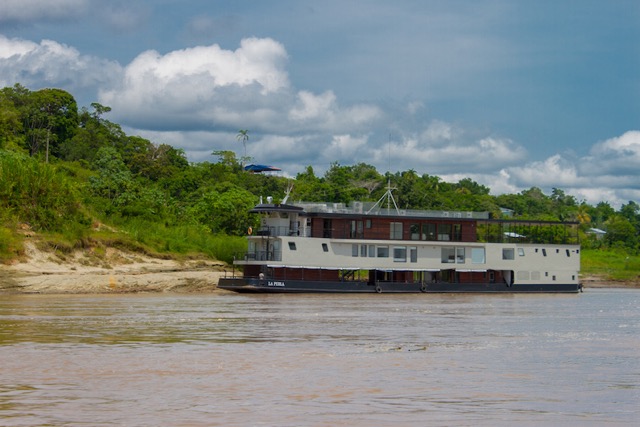 Make your dream come true and explore some of the inhospitable and inaccessible places that enhance the Amazon experience with its wild beauty. Immerse yourself in the lush vegetation. Slide through the mysteries of the jungle on our most affordable cruises.

You4 choice of 3, 4 or 7 days Amazon River cruise itineraries, including all meals, airport transfers and jungle excursions. The ship has 14 cabins.


Extra services in Iquitos, Lima, and throughout Peru can be added to suit interests.
* There may be discounts on certain departures!

PACAYA SAMIRIA NATIONAL RESERVE

This National Park is the largest protected natural area in Peru (2,080,000 ha), located 190 miles from Iquitos and is accessible only by waterways. The wealth of the low lying virgin rainforest gives this area an enormous bio-diversity located in and among the reserve's many lakes and vast swamp areas. The reflective quality of the calm dark waters of the many tributaries and lagoons in the Reserve, lead to its nickname, "The Mirrored Forest." The is a scenic photo opportunity and nearly ever turn. Sunrises and sunsets in this area can be outstanding!
Practically unexplored and uninhabited, it offers an astonishing potential for research studies and observation of wildlife, including species in danger of extinction elsewhere in the Amazon. This area has more than 85 lakes and lush vegetation with a great variety of flora species such as the Lupuna Tree, measuring up to 160 feet tall with a diameter of 10 feet in four forest types. It also has 130 species of mammals such as the Jaguar, Ocelots, Giant River Otters and Capybara (the world's biggest rodent), and several species of monkeys in danger of extinction, like the black Maquisapa or Spider Monkey, the Yellow breast, and the Common Woolly Monkey.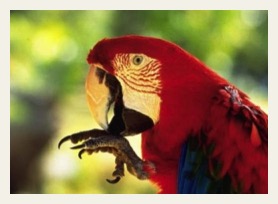 There are 350 bird species like Toucans and Blue, Yellow and Red Macaws. All this, plus the 150 reptiles of 20 families, makes the forest one best tourist trips in the world for the diversity in wildlife sightings. Of great importance to the Pacaya Samiria National Reserve's ecosytem is the aquatic fauna, with 250 species of fish, such as the Paiche, the world's largest fresh water fish, weighing up to 250 lbs., and measuring up to 9 feet long, plus species of Turtles, Pink and Grey River Dolphins, and the Manatee.


A cruise to the Reserve offers the opportunity to learn about new cultures and to explore the mysterious and magic world of the Amazon forest. It offers a variety of activities, as diverse as the forest itself. Along with excellent bird and wildlife viewing, you can witness a countless variety of plants, go fishing, save memories with photographs, admire the Pink River Dolphins,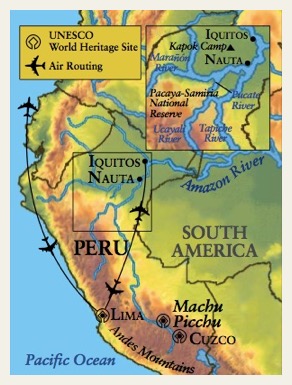 learn about Shamanism and medicinal plants, all while observing life on the Amazon River.


This part of the upper Amazon Basin has two main seasons; high water and low water. The seasons are based on what is occurring on the slopes of the Andes hundreds of miles away, not rain in the local region. Interestingly, in the Amazon rivers it is not uncommon for the water levels to rise with no recent rains, or the water levels fall after rains. Therefore cruises' daily itineraries will change depending on traveling in high water season (December to May) or low water season (June to November). The proposed routes and excursions will vary some, depending on the type of weather, the level of water of the rivers, as well as the wildlife cycles (see sighting lists at bottom of page). We trust the expert guides to modify the daily activities for the particular interests and safety of the group.
See below for a brief outline typical itineraries.

La Perla 2017 Rates and Dates
SINGLE SUPPLEMENT: 50% additional
CHILDREN; 30% discount for under 12 years (7 years old minimum)

* Contact us for availability of alternative dates for groups and private charters.


The Cruises Include:

Transfers Iquitos airport / Nauta / Iquitos airport.
Full board with all meals on board and during the shore tours.
All shore and boat excursions on the Amazon Rivers.
Bottled water and non-alcoholic house beverages.
Entrance fees to Pacaya Samiria National Reserve.
Naturalist tour guide and assistance.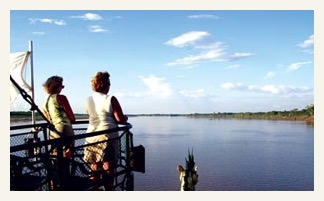 NOTE
: You are welcome to add overnights in Iquitos before or after the Amazon cruise. We normally use the Hotel Dorado Plaza. We also arrange day tours to such places as: Manatee Rescue Center, Quistococha Zoo, Pillpintuwasi Butterfly Farm and Animal Orphanage, Fundo Pedrito in Barrio Florido village, Belen Market, Boras Indian village, the Allpahuayo-Mishana National Reserve and more.


La Perla Amazon Cruise Itineraries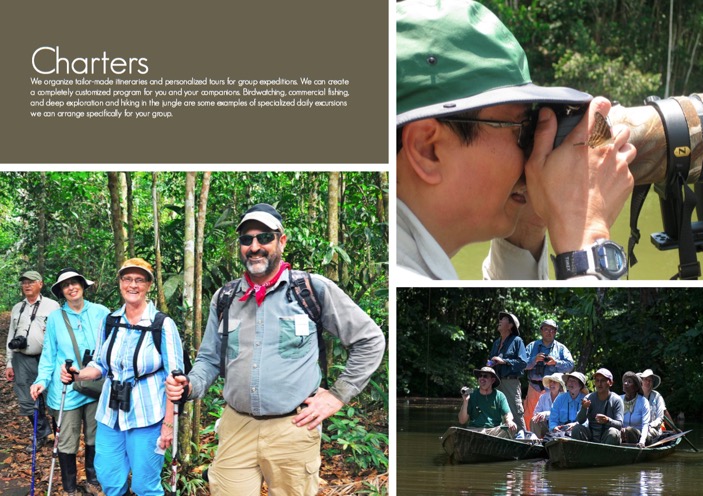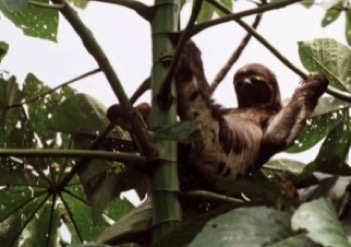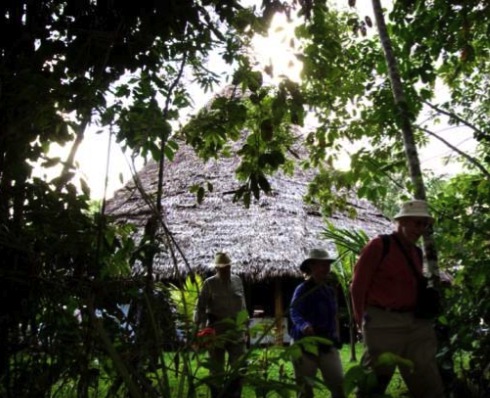 Notes
:
Excursion schedules may vary depending on weather conditions and wildlife cycles. The listed daily itineraries are scheduled guidelines and it is important to allow room for the unpredictable and unexpected surprises that make each trip unique. We find it is more satisfying to let the jungle, the weather, and our naturalist guides lead the way. We trust the expert guides to modify the itinerary for the particular interests and safety of the group.


Itinerary: The itineraries are subject to change due to weather conditions at certain times of the year. The water levels of the rivers also vary from time to time, as well as the hours of sailing. Excursions may be modified at the discretion of the Zafiro crew.

Weather: The weather in Iquitos is warm and humid and the temperature varies between 33 °C (90 °F) and 21 °C (70 °F).
The rainy (high water) season is from November to May.
The dry (low water) season is from June to October.
Each season boasts dramatic difference in plants, animals, and weather.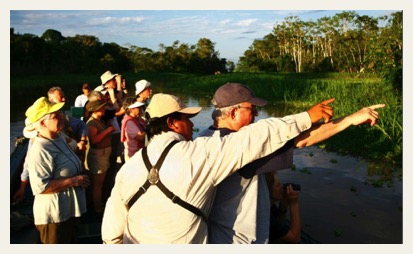 Clothing: light and fresh pieces, blouses, long-sleeved shirts, swimwear, shoes with soft rubber sole for the boat (rubber boots and rain ponchos are provided by us), cardigan or long-sleeved shirts, wind resistant jackets. The days are hot and humid while the night breeze is fresh.

Insects & Mosquitoes: We recommend taking Vitamin B or B-15 a few days before arrival to the jungle. These vitamins are the best natural repellent against insect bites. As well, do not forget to bring conventional repellent and cream for bites.

Other items: We suggest bringing sunscreen, a hat, sunglasses, binoculars (very important for enjoying the fauna and flora. Preferably 1 per person), camera, and extra batteries.

Connectivity: There is no Wi-Fi Internet or phone signal coverage on our vessels during most the sailing.

Tips: Tips for both the crew and the guides are not included and are expected, as is customary on cruises around the world. The amounts are distributed equally between your entire vessel's crew, and we hope their service is valuable and insightful to your experience aboard the La Perla. US$ 10 per passenger, per day, is suggested, and envelopes will be provided in your room for your highest discretion.


Included
+ All meals
+ Bottled water & non-alcoholic, house beverages
+ Accommodation in double cabins
+ Excursions
+ Transfers
+ Swimming with dolphins (optional)
+ Bilingual naturalist guide
+ National Park entrance fees

Excluded

- Other alcoholic & bottled beverages
- International airfares
- Domestic airfares
- Airport taxes
- Cost of medical emergencies including evacuation
- Gratuities
- Souvenirs or additional services
- Travel insurance



Amazon Conservation Program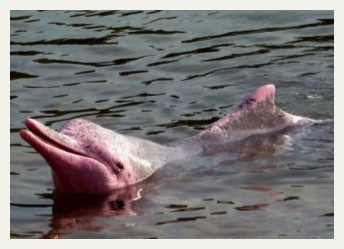 Tourism plays a vital role in the pursuit of sustainability. In our commitment to sustainable management and responsible tourism, we are constantly working hard with local communities. Once a week we visit communities with nonperishable food, ammunition, clothes and shoes. As part of our work, our naturalist guides give a speech on environmental conservation to children. This activity is carried out to raise awareness and sensitize the community about the importance of protecting and preserving our environment and natural resources. As part of our work, we work with women artisans in San Francisco: a community located along the Ucayali River. The art work of these talented women is displayed on the ship as part of the decor. As part of our welfare program, we offer their crafts in our boutique on board which encourage tourists to purchase these works of art and contribute to this community. All proceeds will help us support the purchase of school supplies throughout the year.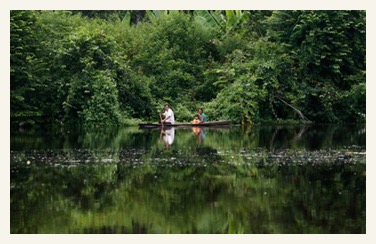 Another important contribution is the supporting of the Association of Amazonian Biodiversity Conservation ( ACOBIA ) , where we work to support the preservation of natural resources and the environment. We contribute a donation for its activities and at the same time encourage the community to have direct contact with nature and to value the natural resources and rich biodiversity that Mother Nature gives us.

The Ship La Perla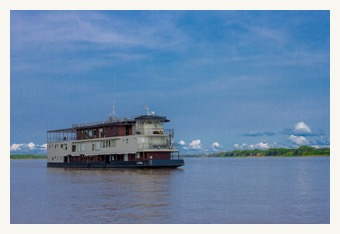 Cabins
14 cabins:
• 09 Standard Cabins.
• 02 Amazon View Cabins.
• 03 Superior Cabins.
• Standard Cabins with exterior view and windows.
• Amazon View cabins with balcony.
• Superior Cabins with a panoramic view.
• All cabins have air-conditioning and private bathroom.


Cabin Features

• Standard Cabins of 14m2 / 151 sq ft with two twin beds or one queen bed and private bathroom with shower.
• Amazon View cabins of 16m2 / 173 sq ft with one queen bed or King bed and private bathroom with shower. Access to balcony.
• Suites of 20m2 / 215 sq ft with two twin beds convertibles in Californian King size and private bathroom with shower. Cabin with possibility to accommodate an extra bed. Ideal for families.
• The cabins are equipped with a desk, wardrobe, chest of drawers, dresser, hairdryer and amenities basket. The cabins have smoke detectors and hot water 24 hours a day.


Common Areas

• Outdoor Lounge
• Interior Lounge/ Lecture room
• Dining room
• Observation Deck
• Outdoor Hammocks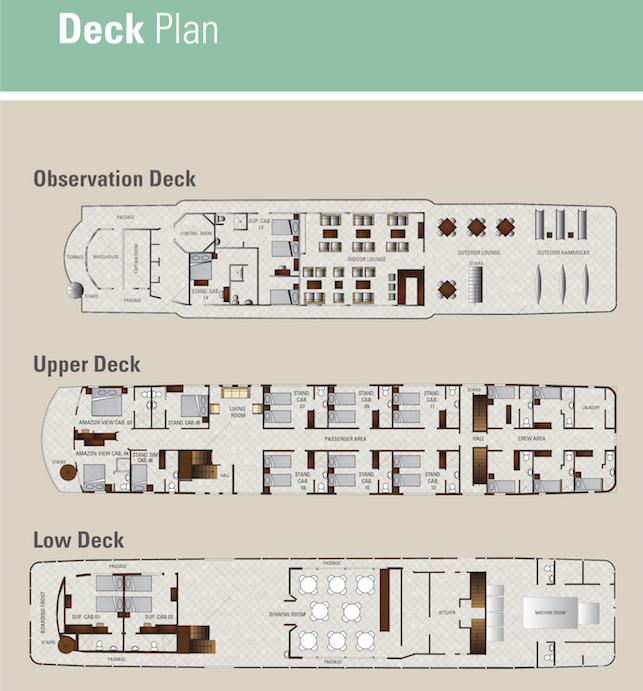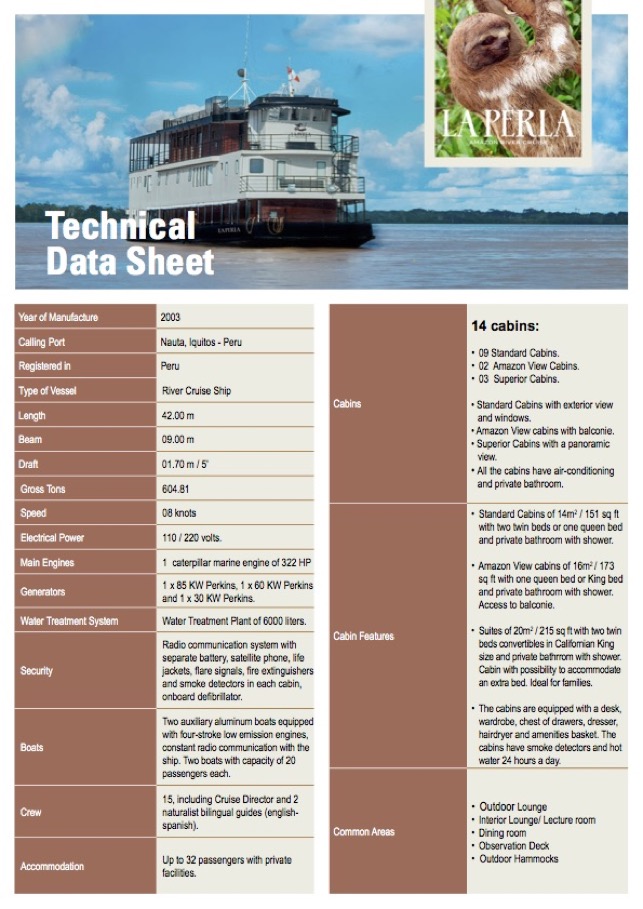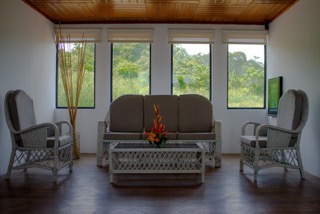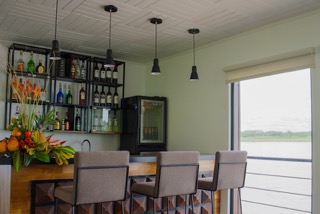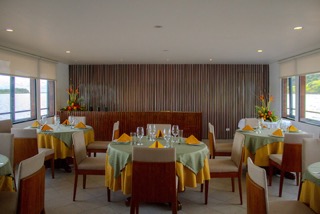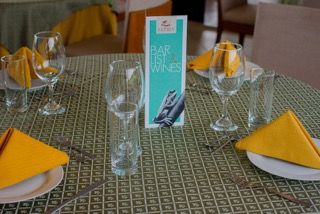 All our Amazon tours may be combined with other explorations in Peru.
You are welcome to call us anytime at 1-239-992-9660, or toll free at 800-446-9660 or email us at
travel"at"GoExploring.com
for a detailed Trip Brochure.

Return to the top of this webpage :)